Anglais seulement
Traduction en cours
Cette page n'est actuellement disponible qu'en Anglais. Nous travaillons activement à traduire l'ensemble du site. Nous vous remercions pour votre patience.
Here's your daily devotional!
If you wish to receive these free devotionals every weekday by E-mail, click the button below. Note: you'll have to log in or create your membership account first. Membership in the League is free. Join now!
Sign up to receive the Daily Devotional
"A Refresh and Renewed Perspective"
Romans 5:4b
and character, hope.
Thoughts for Today:
Previously: suffering (pressure) produces perseverance (endurance), enduring pressure develops character (experience), and in our passage today -- with our character firmly in place we find hope. Now when faced with a trial and suffering because of near unbearable pressure, I look back to my previous experience and rejoice because I know God came through for me before and He will again.

I have been feeling pretty stressed for the last several months. The problems seem to stack one on top of the other. For example: our adult children have been experiencing some difficulties; my mother's health is a concern; the pressure of keeping up with writing daily devotions; my responsibilities at church; a construction project which has led to a landslide on our property line, etc. The list goes on and on. I'm sure you have a pretty long one yourself.

But it seems I have more hope lately -- and I know why -- I just returned fully recharged from a vacation in Hawaii. God had sent me there with a close friend to golf my brains out for five days -- completely worry free. Isn't God awesome? We played 36 holes a day -- and it was heavenly. When the opportunity first came up, I worried about it: "What about this, and who would do that, and what about...?" I think you get the point. My wife said to me: "You need a vacation. Go and have a good time. I'll take care of things here."

Before leaving I prayed: "Lord I am fully submitted to your will. If you have a different plan other than Hawaii, I will adjust my plans to yours." Thankfully He didn't, so off to Hawaii I went (my wife having made it clear to everyone that I was not to be disturbed). While there I spent a lot of time with the Lord -- three to four hours every morning in simple fellowship -- then I went golfing. On one of my daily morning walks I decided to use the time to thank God for everything He had done for me. When I got to my wife I broke down in tears. I sobbed, "Lord thank you for Sherry." You see the Lord knew what I needed most -- time with Him to get things in the proper perspective. The Lord spoke to my wife and she answered with a personal sacrifice.

After five days, I came back completely refreshed. And you know what -- everything looks a little brighter. The same old problems are still there, but I have been reminded once again (for perhaps the millionth time) -- God is in control so rejoice. God came through for me and He will again, and again, and again.
Questions to Ponder:
Consider Jesus' words from Mark 6:31: "And He said to them, 'Come aside by yourselves to a deserted place and rest a while.'" Hope comes from experience, but sometimes we need a little time to reflect on our past experience in order to renew our hope in the Lord. Take a few minutes right now and think about your last stressful event. How did God bring you through? How were you delivered? Isn't God incredible? Doesn't our experience justify greater hope and trust in the Lord?
Sign up to receive the Daily Devotional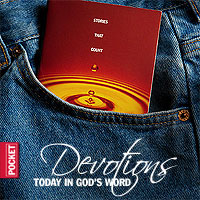 There's nothing like God's Word to create purpose in your life that lasts the entire day and beyond. We encourage you to Read, Carry and Share the Word of God. Pocket Devotions are sent by E-mail every weekday (Monday to Friday). On weekends we encourage you to be creative and study on your own in any area of Scripture where God leads you.
You can start from Day 1 at any time. Messages are sent automatically. Subscribe now! You may unsubscribe at any time.
About the author
Pocket Devotions are written by Mike Brooks. A retired businessman, he is Moderator of South Shores church, leads the Deacon Board, serves on the finance committee, and he teaches a Men's Bible study and the Men's Ministry. Mike has a passion for evangelical missions. He is the husband of Sherry; the father of Ryan, Natalie, Krissy, Rebecca, and Amanda; the father-in-law of Ariel; and the grandfather of Conner and Christian.